Taste of Chaos 2/18/2005 - Orlando, FL

Summary: Show was awesome. Pit was fabulous. Met the used, lead singer of A Static Lullaby, and Chris from Underoath.

Pics behind cut.



OK, so after 2 days of traveling, I was finally there. I got to Nat's and then we got ready to go to the show. It took over an hour to find parking in downtown Orlando. And since I was driving, it sucked hardcore. *nods* but Finally we found parking and walked about 8 blocks to the venue.
The concert was outside, behind this :08 Club, and uhm, it was in mulch! I don't know who's grand idea it was to have it in mulch but eh... However, whoever decided for it to be around huge ass trees is an idiot. Cuz it was the stage, small area for a mosh pit, *bam* big fucking trees. But it was ok cuz we didn't stay by the trees too long.

Band Order:
A Static Lullaby
Underoath
Senses Fail
Killswitch Engage
The Used

Underoath had an awesome pit. If I do remember correctly, this was the first time being in the middle of a circle pit. Usually I stick to the outsides and get knocked into and push people back in, but uhm, yeah this was the first time being in the middle of it. It was grand! Underoath didn't have lights for most of their set... I don't really know what happened *edit - it's explained later* but it was so awesome. This was a night time show, and yeah. No lights! It was so awesome. They took a minute out of their set to thank God for their opportunity to be on this tour and took a minute to talk to us. This took major guts! I knew that they were a Christian band, but I didn't know that they would take time out to say anything about it. It took a lot of guts for them to do that, cuz yeah. .... The guys behind us were mocking them. The pit was insane!

Senses Fail's set was awesome. They played all of the songs that we wanted them to except for 187... and I didn't know but about 3 songs, Bloody Romance and one other one that I can't remember the name of... *shruggs* Had to get out of the pit during the middle. Instead of a mosh pit it turned into a 'lets crush everyone' session.

Killswitch Engage sucked. L*nods*

My Chemical Romance was not there. They were playing a private show for a radio station... those bastards.

The Used was sooo awesome! This was my first *full* Used set. *gah* Lovely. They opened with "Take It Away". Right Before "I Caught Fire" there was a wedding. Joy. If/When I get married, that would be awesome. *nods*

The Used Set List (I don't know how completely accurate this is. This is just what I remember. I don't know if it is complete or in the exact order):

Take It Away
I Caught Fire ("This song is about anal sex" - Bert)
All That I've Got
Taste of Ink
Blue and Yellow
On My Own
I'm A Fake

So the show ended and me and Nat decided to see if we could meet the band. So we're standing where this small crowd was, and waited and waited... and we heard a girl say that in order to meet them you have to have a pass... We were like "yeah ok, whatever". So one of the security guards announced that the meet and greet would be over by the 'big oak tree' so we go stand over there and another security guard confirms that you have to have a pass in order to get in. So we decide to go look at merchandise and Nat sees a sign that says "Join the Used Nation for $23 and meet The Used today" So we did. We got our passes and went and stood in line and met the band.

Branden was extremely nice and so was Jeph (altho he was really quiet). Bert had extreme ADD and he was rubbing off on Quinn...

Pics shall we?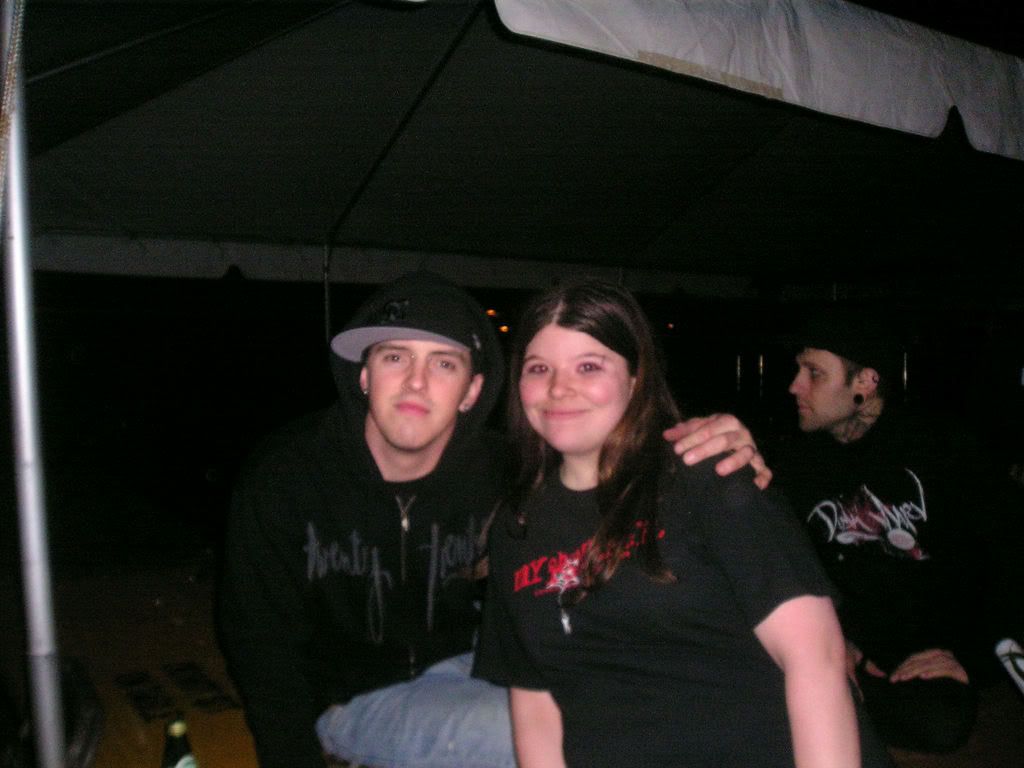 Me and Branden. He was so sweet, heh. =)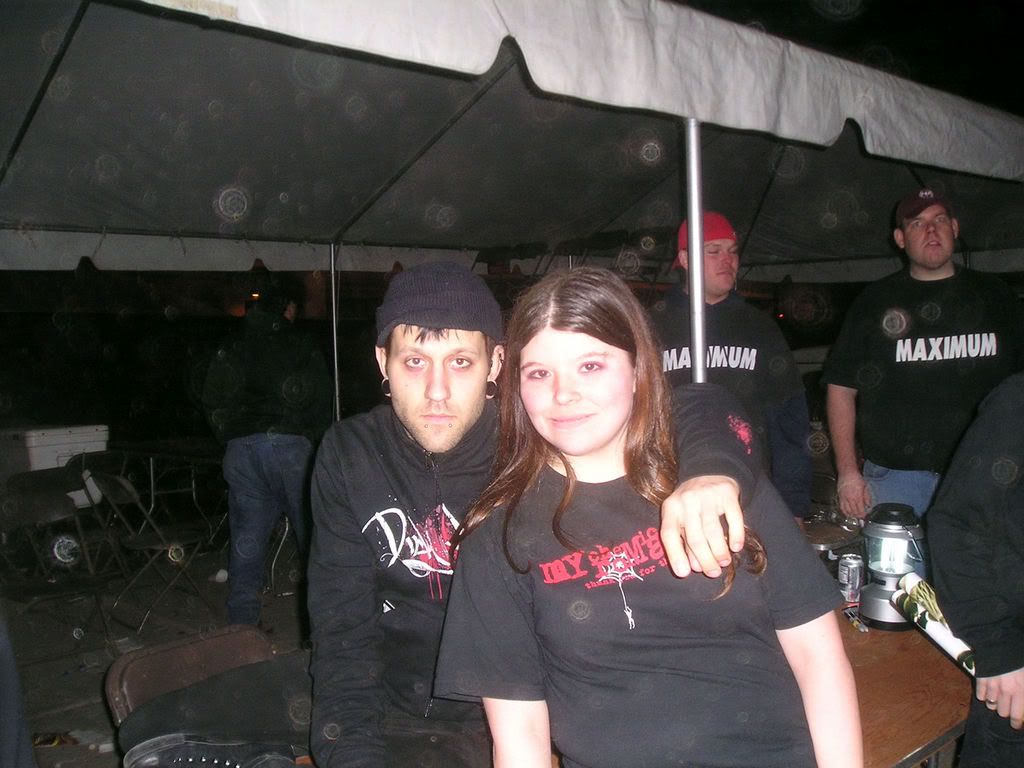 I ADORE this pic of me and Jeph. Looks like we either a) just got high or b) just had sex.... let's pretend it was the latter. *nods* I LOVE THIS PIC!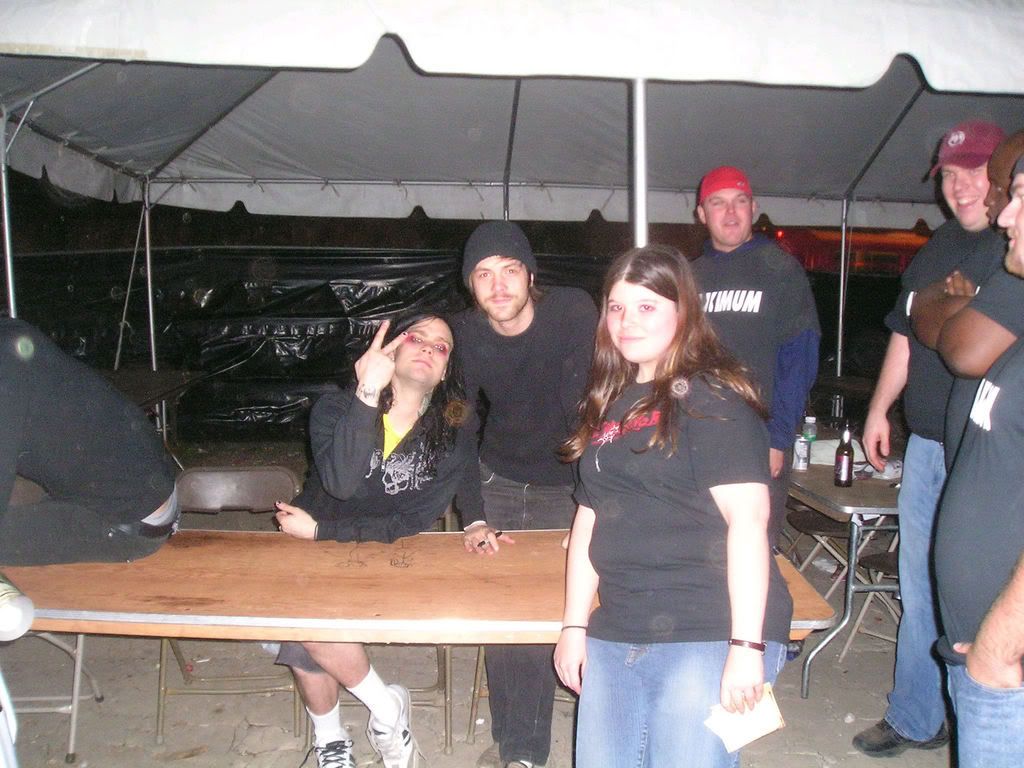 This is me and Bert and Quinn. Yeah... they were total ADD. heh. But still a good pic none the less. *and yes, Bert's legs are crossed. =P *

So then we decided to leave after the meet and greet and while we were passing the venue we see Chris from Underoath. So we stopped and chatted with him for a moment, and he is so nice.

And as we were heading behind us... well, here's what happened
(nat and me walking, nat's smoking)
(from behind us): Ladies, ladies, ladies....
He comes up and wraps his arm around Nat.

(guy) : Hey ladies, what's up?
Anyways, he bums a cig off of nat and yeah... Was awesome. Turns out he was the lead singer from A Static Lullaby. Was great.

*sigh* And I got to do it all again (with MCR) on Sunday. =)

And just cuz I can, here is a pic of me and Jeph (cuz he's awesome like that) from Sunday: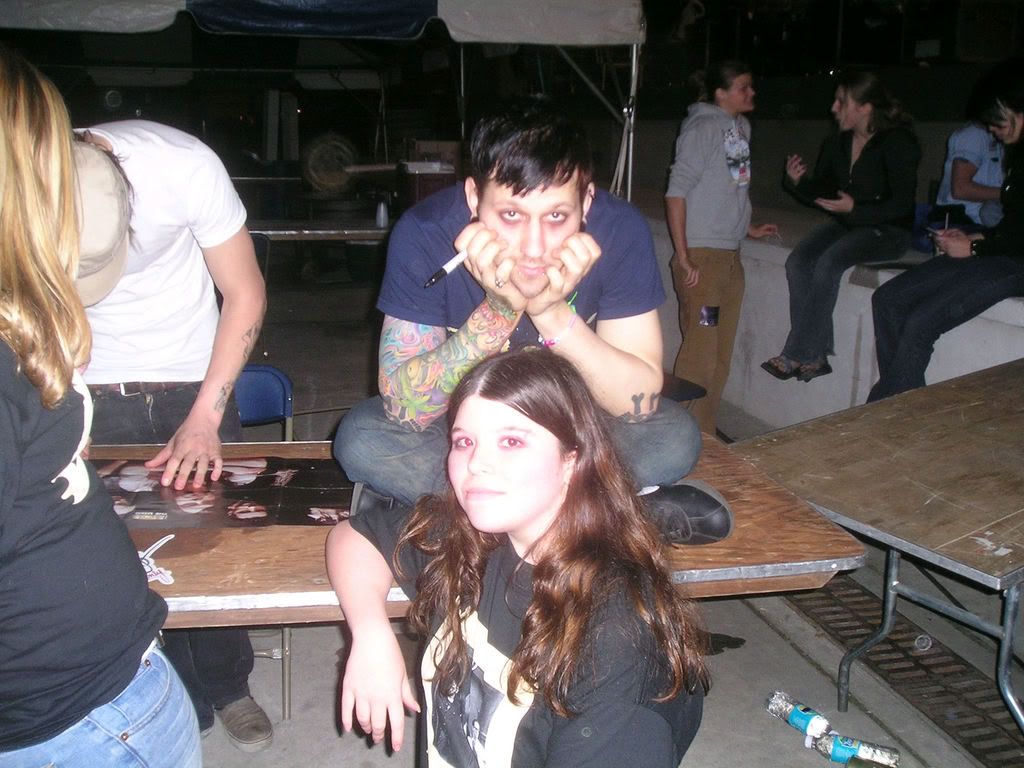 Yup yup, me and Jeph just chillin =)